Bring Your Bestie to Tri Pink
28.05.2019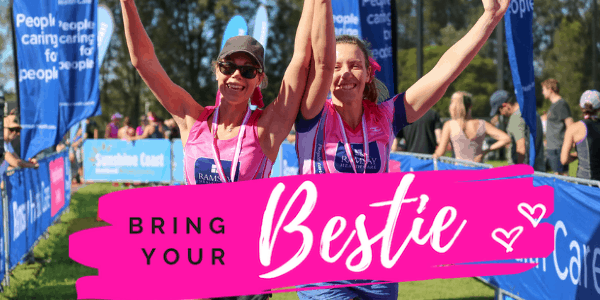 Bring Your Bestie to Australia's largest women's only triathlon series!  Paddle, Pedal & Plod your way through the course alongside your Bestie, all while raising money for the National Breast Cancer Foundation.
Simply enter Triathlon Pink in the distance you want and in the 'additional items' section before you pay, add an entry for your Bestie at the reduced rate, and pay for both entries in one transaction.  You must both enter the same distance event, at the same venue.
We will email you a promotional code which your Bestie will be able to use to enter their details into the registration system.
Bring Your Bestie pricing is available for a limited time, so grab your Bestie and enter now!
Details:
Got more than one Bestie? – email us once you've purchased your first Bring Your Bestie entry and we can send through a discount code for an additional entry.
When the code for your Bestie's entry has been emailed through to you, you will need to forward it to your Bestie so they can sign up.  They have 14 days to sign up in our registration system.  No Bring Your Bestie entry codes will be accepted  14 days prior to a race.  Bring Your Bestie entries can not be processed at the race venue.
Bring Your Bestie pricing is only available when you enter – it can't be added at a later date.
Transfer & refunds – all transfers and refunds are subject to our existing policies – found here.
Bring Your Bestie promotion is available until 4 weeks before the online entries close at each race venue:  (all times AEST)

Sydney:  12 noon 4/10/19
Perth: 12 noon 11/10/19
Brisbane: 12 noon 25/10/19
Melbourne: 12 noon 20/12/19
Gold Coast: 12 noon 24/1/20
Sunshine Coast: 12 noon 28/2/20